Biography
Kae MURAKAMI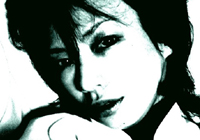 I am a Japanese artist, specialising in Graphic Art and a member of the Japan Artists Association, Inc., produce Original Graphic Art mainly with Lithography and a new planographic technique called Plywoodgraphy - a wooden version of lithography having both characteristics of planographic printing and relief printing. I opened this Website in 2008.
I draft the designing only for the print, and do all processes of the printing (primarily plate making, printing, signing and numbering) by myself. Specifically, L.R.C.C. series is hand-printed; therefore there are subtle differences between each production. There are no original pictures for any of my prints. The completion form as the work is the graphic art and the prints can each be thought of as original works.
It is my ideal that the artistic representation and the theoretical composition design fuse on to the flat surface of the graphic art. First of all, I consider what expression is possible with the technique and then the composition is displayed in my works. I use the feel of the tusche with grains of salt and a sprayer like the screen tones on the plate of the lithograph, not only for drawing. I also use the same feel about grains of wood and undercoat when dealing with the plywoodgraph. It matches the grain of the woodcut burned and scoured.
For this reason, I am researching new techniques of planographic printing using fresh ideas and a passion for innovation. See FAQ: Research and Development of Plywoodgraphy
Education
Tama Art University Tokyo, JAPAN
- Master of Fine Arts in Painting Course
Specialization in Lithograph
- Bachelor of Fine Arts in Printmaking Course
Specialization in Lithograph
Master Thesis - History and characteristics of Japanese paper Washi: Collected traditional Japanese Washi from around the country and tested the samples by printing.
Individual Study
Research of botanical wood-filling materials for plywoodgraph: Notice Konjak (jelly made from the starch of a Devil's Tongue) and Persimmon Tannin of time-honored Japanese original materials by referring to Japanese history.
Restoring plate after acid solution treatment in plywoodgraphy: Research of common food containing enzyme for decomposing gelatin of wood-filling and Gum Arabic.
Professional Experience
Creative Director - 4th Minatomirai Art Exhibition in Yokohama, 2006: Responsible for the logo and advertising materials for raising event awareness.
Instructor - Adult art courses (Lithograph, Xylograph, Seal Engraving), various: Provided instruction to school classes and individual tutoring sessions. Courses taught a wide variety of professional principles, including how to produce art at home and the management of equipment and materials using daily commodities.
Exhibition and Contest
2011
6th International exhibition of miniatures "little m" - Lithuania
85th Annual International Competition: Printmaking - U.S.A.
2008
13th International Exhibition Small Graphic Forms Lodz - Poland
2007
Japan Artists Association Exhibition 2007 - Japan
2006
4th Minatomirai Art Exhibition in Yokohama - Japan
4th International Biennial of Miniature Art Czestochowa - Poland
Iowa Biennial Exhibition 2006 - U.S.A.
26th Mini Print International of Cadaques - Spain
Seaside Coffee Art Exhibition in Zushi - Japan
4th Biennial International Miniature Print Exhibition - Canada
8th International Miniature Art Biennial - Canada
5th Lessedra World Art Print Annual - Bulgaria
2005
3th Minatomirai Art Exhibition in Yokohama - Japan
25th Mini Print International of Cadaques - Spain
4th Lessedra World Art Print Annual - Bulgaria
2004
2th Minatomirai Art Exhibition in Yokohama - Japan
2003
1th Minatomirai Art Exhibition in Yokohama - Japan
Contemporary Art Festival Kanagawa - Japan
2000
Exhibition of Japan Print Association - Japan