New Release
No information now.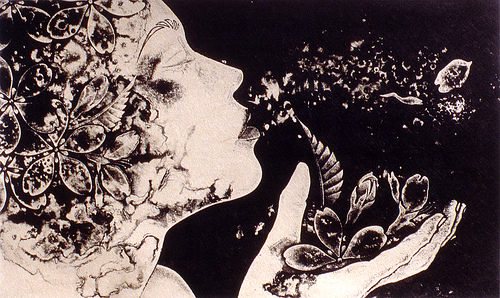 Lithography
The mixture of oil with sprayed water provides gentle undulations. The salt creates a peculiar pattern. The lines that scratched aluminum plate with needle allow getting beautiful halftone having transparency.
On Sale: " the Cherry Orchard "



Pulvériser avec un mélange d'huile et d'eau permet d'obtenir de légères ondulations. Le sel crée une matière particulière. Gratter les planches d'aluminium avec des aiguilles permet d'obtenir des lignes blanches net.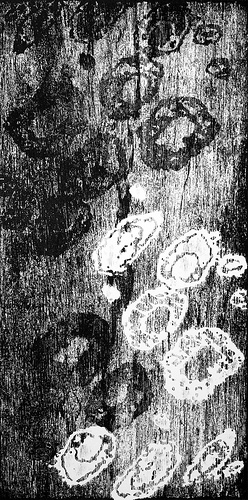 Plywoodgraphy
Plywoodgraphy is new technique concerning planography. A plywood board is used instead of stone or aluminum, namely,a wood version of lithography. It has characteristics of xylography and lithography.
It is possible to carve with a chisel and to print polychrome by using watercolors together. Moreover, one is able to achieve a peculiar feel of wood grain on prints, and able to make matiere on plywood board by a mixture having equal portions of gesso and talc.
La Contreplaquégraphie (plywoodgraphy) est une nouvelle technique de planographie. On utilise du bois au lieu de la pierre ou de l'aluminium, c'est la version bois de la lithographie. Cette technique a les caractéristiques de la xylographie et de la lithographie. Il est possible de les tailler au ciseau à bois et le papier est brocardé par la forme des ciselures. Et d'imprimer en polychrome en utilisant des aquarelles ensemble sur une même édition. De plus on peut sentir la sensation particulière du grain de bois sur l'impression et créer de la matière sur la plaque de bois avec du plâtre de paris et du talc mélangés dans les mêmes proportions.
Il est aussi possible d'utiliser du silicone à la place de la résine pour faire des planches identiques à celle de l'aluminium. En tenant à rechercher de bons matériaux et toujours une bonne stabilité de la technique.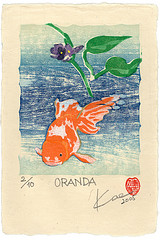 Multi-colored Plywoodgraphy
Multi-colored Plywoodgraphy makes light and cute images, the opposite of the black and white. It is encouraging news for this technique.
On Sale: Goldfish series
Special Set: All-sheet with Branch Screen
En ce qui concerne les couleurs de la Contreplaquégraphie permettent d'obtenir des images lumineuses et fines à l'inverse du noir et blanc. C'est une nouvelle encourage pour cette technique.
Mixed Media
Mixed media refers to an artwork in the making of which more than one medium has been employed.
Computer Graphics
Sometimes I design a logo for changing my mind and relax. It refresh my ideas when I am tired of printmaking.
Quelques fois je dessine des logos pour me changer les idées et me détendre. Cela me rafraîchis les idées lorsque je suis fatigué.