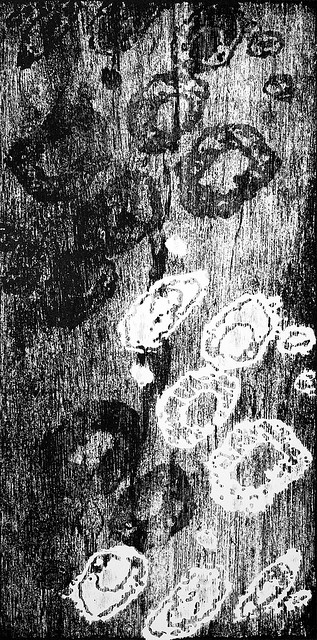 Tino
technique: plywoodgraph / base material: art paper
image size: w 240 x h 480 mm (9.4 x 18.9 in)
paper size: w 360 x h 600 mm (14.2 x 23.6 in)
year: 2006
edition: limited to 3 sheet ( stock: 1 2 3 )
item number: TN06
price: JPY 75,000
Shipping rates and handling charges is extra.
In addition to the price, you have to pay 5% at the consumption tax only on orders shipped within Japan. It will not be charged on shipments to overseas.
Design and Technique
Drew inspiration from some friend's hair style. It is Mohawk hairstyle, and the top hair is sandwiched red in between both black sides. The side hair close-cropped is black leopard pattern on gold ground. Expressed the hair with the grain of wood. The title is from his name.
Exhibition and Contest
Japan Artists Association Exhibition 2007 - Japan
4th Minatomirai Art Exhibition in Yokohama 2006 - Japan