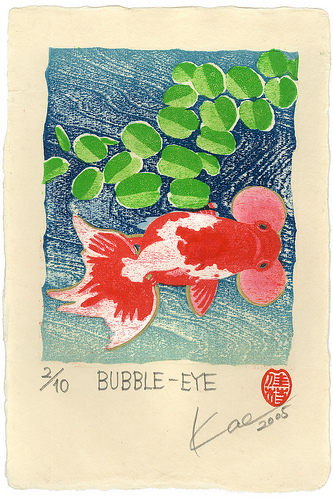 Bubble-eye
technique: multi-colored plywoodgraphy and handcoloring with watercolors and gold paint
base material: mitsumata-washi
image size: w 80 x h 100 mm (3.1 x 3.9 in)
paper size: 100 x 148 mm (3.9 x 5.8 in) - Japanese postcard size
year: 2005
edition: limited to 10 sheets ( stock: 1 2 3* 4 5 6 7 8 9 10 )
product number: GFS-BE
* Edition No.3 is on All-sheet set with Branch Screen.
price: JPY 10,000
Shipping rates and handling charges is extra.
In addition to the price, you have to pay 5% at the consumption tax only on orders shipped within Japan. It will not be charged on shipments to overseas.
Design and Technique
The goldfish has been bred and petted for a long time in Japan. I expressed old Japanese tradition by drawing goldfish with water plants in Japanese natural scenery. Printed with plywoodgraphy for the most part and with the grain of burnt wood for ripples, on Washi that is Japanese traditional paper. Colored by hand-coloring with watercolors for transparence, and gold paint for gorgeous.
Also I have them in my small pond and water pots with lotus, water lily, iris and the like.
Goldfish "Bubble-eye" and Salvinia Natans:
- The Bubble-eye possesses upward pointing eyes accompanied by two large fluid-filled sacs, and it is a dorsal-less type.
- Salvinia is a "floating fern", and the leaf development is unique.
Exhibition and Contest
This series was accepted following Exhibitions:
4th International Biennial of Miniature Art Czestochowa 2006 - Poland
26th Mini Print International of Cadaques 2006 - Spain
4th Biennial International Miniature Print Exhibition 2006 - Canada
8th International Miniature Art Biennial 2006 - Canada
5th Lessedra World Art Print Annual 2006 - Bulgaria
25th Mini Print International of Cadaques 2005 - Spain
4th Lessedra World Art Print Annual 2005 - Bulgaria