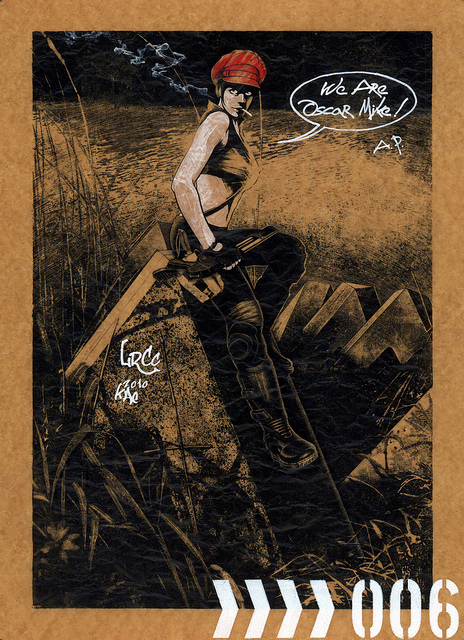 No. 006 " We Are Oscar Mike ! "
technique: lithograph, stencil, handcoloring / base material: wax paper
image size: w 450 x h 650 mm (17.7 x 25.6 in) / paper size: w 570 x h 770 mm (22.4 x 30.3 in)
year: 2010
edition: limited to 13 sheets ( stock: 1 2 3 4 5 6 7 8 9 10 11 12 13 )
item number: LRCC006
price: JPY 100,000
Shipping rates and handling charges is extra.
In addition to the price, you have to pay 5% at the consumption tax only on orders shipped within Japan. It will not be charged on shipments to overseas.
Design and Technique
The Little Red Crush Cap (L.R.C.C.) is the code name of the main character who teams up with a Suzuki TV250 Wolf model motorcycle in this story inspired by "Little Red Riding Hood". The concept involves scribbling on old pictures cut from scenes of the character's life; action adventure story to play exciting life with soul mates.
The design matches the wrinkly wax paper with representations of hand printed lithograph producing an antique look, while the scribbling are created with enamel colors drawn by hand. The opus number printed with stencil creates the brutal aggressive atmosphere. The view of the world the characters live in comes to life through them. The words by graffiti style in the speech balloons are the respective titles of the works. Rivets are attached for decoration on the works and eyelets can be used to pin up walls. However, the merchandise is very delicate. Scrupulous care should be taken in handling.
This series is recurring to illustrations with the manga and the animation that have formed the starting point of artist Kae's art production.
Usually lrcc13.com deals only first impression of first edition by artist, and it is limited to 13 sheets per artwork in this series. This series is hand-printed, so it is not quite identical to each sheet.